Welcome
My name is Cara Gulati. I have the best jobs in the world! I design and publish quilt patterns for the Doodle Press line. My first book is published on my 3-D Explosion series, so now you can make one too! I also lecture and teach about quilting around the world. One of my favorite jobs is making very large art quilts.

I have a store where you can look at and purchase Doodle Press patterns, fabric or my books. There is a gallery of my work as well as gallery of my students work. Check out my workshops page where you can find descriptions and supply lists and my lecture information. To find out if I am coming to a town near you for a big convention or retreat, look at my teaching schedule. If you want to know more about me, check out the about page. Links pages are always fun. And last, if you want to contact me, please do.

3-D Illusions in Fiber show at Cafe Arrivederci
I have a fabulous show hanging at a great italian restaurant in San Rafael. Stop by for a meal or a glass of wine and check out my art! All the pieces are stretched on canvas so they are easy to hang. Here is the press release:
Art Quilter Cara Gulati is currently exhibiting her unique and notable Art Quilts at Cafe Arrivederci in San Rafael. These are not your grandmother's quilts in shape or form. Modern images creating 3-D illusions in fiber are created with saturated colors on backgrounds of negative black space. These pieces are quilted using equally colorful threads creating more texture and a raised surface for the eyes to feast upon.
Cara considers herself to be quite lucky to work in her field of choice. In order to do that, she has to have her hands in many buckets, so to speak. She designs and makes fiber art quilts. She writes and publishes books and patterns for quilters as well as traveling the world to teach and lecture about her work. She also shows her work in galleries. The business of art is just as important as creating the art. You can read and see more of Cara's work on her website DoodlePress.com.

Cafe Arrivederci is a bar and restaurant with art adorning all the walls of every room. The show runs through January 2, 2014. All the art is for sale. Pop in for a meal or just a cocktail at 11 G Street in San Rafael, CA.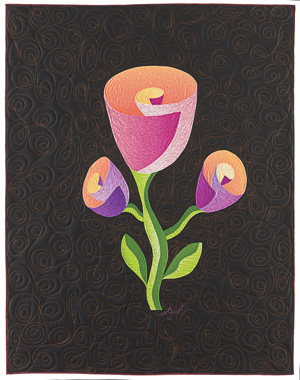 This piece is called Groovy Flower.
More quick photos from the show: